Programs of Excellence in Glycosciences 2011–2019
Programs of Excellence in Glycosciences (PEG) 2011–2019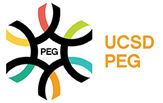 The National Heart, Lung and Blood Institute (NHLBI) created the Programs of Excellence in Glycosciences (PEG) in 2011 to translate emerging discoveries into new diagnostics and clinical applications, to build research capacity including technological resources, and a cadre of "scientifically bilingual" investigators fluent in glycan chemistry and biology that will sustain and advance the application of glycosciences to heart, lung, and blood research.
National Administrative Center
UC San Diego was selected as the National Administrative Center (PEGNAC) by the NHLBI, and served as the coordinator of the 6 Programs of Excellence in Glycosciences' across the nation. The Center performed a range of functions including organizing investigator meetings, conference calls, and External Review Panel meetings.
UCSD PEG Program
In 2011 the NHLBI recognized a group of GRTC investigators at UC San Diego as one of the 6 PEG programs. This multidisciplinary partnership brought experts and new investigators together to focus on glycans and glycan-binding proteins in innate immunity, revealing many important functions in health and disease.
Our program consisted of 4 innovative glycoscience research projects and 5 state-of-the-art core facilities.
UC San Diego PEG Projects

Siglec Modulation of Inflammatory Responses

PI: Ajit Varki

Microbial Glycan Mimicry and Glycosides in Inflamatory Responses PI: Victor Nizet

Genetic Analysis fo Glycosaminoglycans in Inflammatory Responses PI: Jeffrey D. Esko

Hyaluronan Catabolism in Inflammatory Responses PI: Richard Gallo
UC San Diego PEG Research Cores
Glycosciences Skills Development Director: Jeffrey D. Esko
Shared Resources Core: Glycan Analysis & Synthesis Director: Biswa Choudhury, Co-I: Geert-Jan Boons
Administrative and Mouse Management Director: Ajit Varki
Histopathology Director: Nissi Varki
Hematology and Clinical Chemistry Director: Dzung Le